14 High School, College & Professional Athletes Favorite Bible Verse
As athletes, we go through our ups and downs just like everyone else. In those times, we have to learn how to push ourselves through those tough workouts or stay motivated when our team is down late in the game, and we feel like we have nothing left in the tank to give. In those moments yes we need to dig deep within ourselves, but that becomes easier when we have faith that God help us through any situation.
The cool thing is the bible has a verse for almost every situation we may encounter. This article not only features a few talented high school, college and professional athletes dedicated to their sport but in their faith as well. Check out these 14 athletes from around the world favorite bible verse.
Jeanelle Griesel
Romans 12: 1-2 Therefore, I urge you, brothers and sisters, in view of God's mercy, to offer your bodies as a living sacrifice, holy and pleasing to God—this is your true and proper worship. 2 Do not conform to the pattern of this world, but be transformed by the renewing of your mind. Then you will be able to test and approve what God's will is—his good, pleasing and perfect will. – 400m Sprinter at The University of Pretoria in South Africa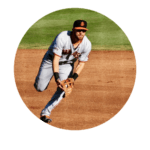 TJ Bennett
Romans 1:16 For I am not ashamed of the gospel, because it is the power of God that brings salvation to everyone who believes: first to the Jew, then to the Gentile. – Infielder in The San Francisco Giants Organization
Karenna
"Whatever you do, work at it with all your heart, as working for the Lord" Colossians 3:23 – Freestyle aerial skier U.S Jr. National team
Matt Blount
Jeremiah 29:11 For I know the plans I have for you," declares the LORD, "plans to prosper you and not to harm you, plans to give you hope and a future. –West Morris Central High School Baseball and Football
Chanel
Ephesians 3:20 Now to him who is able to do immeasurably more than all we ask or imagine, according to his power that is at work within us. –400m Hurdler at The University of Pretoria in South Africa 
Bryan Johnson
2 Corinthians 12:9-10 But he said to me, "My grace is sufficient for you, for my power is made perfect in weakness." Therefore I will boast all the more gladly about my weaknesses, so that Christ's power may rest on me. 10 That is why, for Christ's sake, I delight in weaknesses, in insults, in hardships, in persecutions, in difficulties. For when I am weak, then I am strong. – Center Back Long Beach City FC
Ceilia Grant
Proverbs 3: 5-6 Trust in the Lord with all your heart and lean not on your own understanding; 6 in all your ways submit to him, and he will make your paths straight. Salt Lake Community College Rode
Hayden Gould
John 13:7 Jesus replied, "You do not realize now what I am doing, but later you will understand." – Center Mid La Plata High School Soccer
Essence Henderson
Luke 1:37 For with God nothing shall be impossible. Iowa State Throws
James Bojko 
Colossians 3:23 "Whatever you do, work at it with all your heart, as working for the Lord" Colossians 3:23  – Caldwell University Tennis
Andrea Renee Villarreal
2 Timothy 4:7 I have fought the good fight, I have finished the race, I have kept the faith.  Professional Tennis Player
Kaleb Sherman
Matthew 10:32-33 "Whoever acknowledges me before others, I will also acknowledge before my Father in heaven. 33 But whoever disowns me before others, I will disown before my Father in heaven.  -Bethany College Football
Bree Cunningham
Ephesians 3:20 Now to him who is able to do immeasurably more than all we ask or imagine, according to his power that is at work within us. – Deer Creek High School Soccer
Liane Riles
Hebrew 11:6 And without faith it is impossible to please God, because anyone who comes to him must believe that he exists and that he rewards those who earnestly seek him. – Blue Mountain College Archery
Hopefully, through these talented and faith-driven athletes, you learned some great new verses to help you through any situation you may go through. When putting this article together, I was not sure how it would turn out. I posted a story on the Athlete Dedication page and waited to see what athletes would comment. It was cool to find out that a few athletes shared the same favorite verse as me Ephesians 3:20. Thank you to these 14 athletes for sharing their faith. We may do a part 2 for this, so DM us on the @athlete_dedication Instagram