9INE POINT Chapter: Volleyball
Since launching in 2017, 9INE POINT has covered the content of a multitude of sports around the world.  In that time, we learned for each sport. There is a community of aspiring athletes who deserve an uplifting platform that supports and believes in the pursuit of their dreams.  After doing some research, we found that there is a mass amount of established athletes ready to answer the ambitious call by sharing their own stories of perseverance.  
We are excited to announce our new campaign, "9INE POINT Sports Chapters." Where we will be directing our content to focusing on one sport at a time.  By diving into each specific sport, our mission is to grow the community and build the next generation of athletes within each sport.
For the next year of magazine issues, 9INE POINT will start its newly established Sports Chapters focusing on volleyball.
You may have seen 9INE POINT'S March magazine issue titled "Matchpoint Covid" where we reached out to volleyball players from all over the world, each sharing a common theme: Grievance over the indefinite suspension of the sport due to the Covid-19 Pandemic.  We realized after receiving an overwhelming response, that there are so many stories within the volleyball world that need to be told.  So we decided to continue on and dedicate our very first Sports Chapter to the sport of Volleyball.
The Stats
Our US Women's National Team has been busy showering in Gold as they clenched the title of the 124- match Volleyball Nations League Tournament this past June. Making it their 3rd year in a row as reigning VNL Champions.  This was shortly before winning the coveted Gold medal in the Tokyo 2020 Olympics just this past August.  In addition to indoor volleyball, USA also won the Olympic title on the beach courts in the Tokyo 2020 Olympics as Alix Klineman and April Ross defeated the Australians in the finals.  Simultaneously, the Team U.S.A. National Sitting Volleyball Team just left with a Gold medal in the Tokyo 2020 Paralympic Games for a consecutive title after being ranked number 1 in the World with a Gold Medal in the 2016 Rio ParaOlympics. 
While we see athletes like these as our volley heroes: a talent to admire and level to work towards, it's important to remember that in their path to the podium, their story is full of highs and lows.  It's important to remember that they too had to start from the beginning.
Volleyball is a sport that is rapidly growing with each coming year.  Not only are sitting volleyball tournaments being offered worldwide, but according to the National Federation of State High School Associations, there are currently 500,000 registered athletes competing in high school volleyball programs in the United States with over 60,000 athletes  registered under the FIVB in the pro circuit around the world. 
For The Underdogs
Yet we don't see nearly enough media coverage in these communities of athletes.  9INE POINT wants to change that.  We want to help grow the sport while, in authentic 9INE POINT fashion. Help young athletes be a part of that growth.
What [9INE POINT is] doing is giving a platform to the underdogs" Malina Terrell
In 2018, high school statistics show volleyball to be the most popular "team sport" for high school girls. Throughout the nation with athletes competing in high school and club level. (AAA State of Play) And it doesn't stop there.  Dreams are growing into the collegiate level as the number of programs have almost doubled in the past 10 years with now over 18,000 participants competing across all NCAA divisions (National Collegiate Athletic Association records).
The pro circuit has only continued on the growing trend as professional women's volleyball just recently came to the United States this past February 2021. Proving that the focus on volleyball has shifted upwards.  
 https://www.youtube.com/watch?v=X67CCMDxuh4[/embedyt]
The growth of volleyball in the United States has gone unparalleled in team sports making it one of the fastest emerging sports in modern age, and that's just in the United States. Volleyball is recognized on a global level with over 900 million players around the world.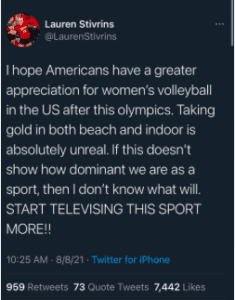 We got right in starting with your very own Dream Chaser, Malina Terrell.