When it comes to putting the best motivational athletes of all time on the top 3 list, it is clearly a mission impossible, since there are so many great athletes. Athletes who motivate, and are a true example of struggle and success. But, let's try to do so without further hesitating!
Muhammed Ali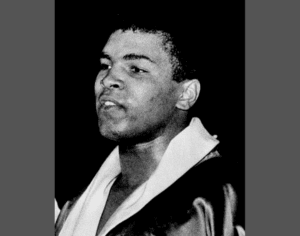 "The fight is won or lost far away from witnesses – behind the lines, in the gym, and out there on the road, long before I dance under those lights." – Muhammad Ali
Cassius Marcellus Clay, known as the greatest boxer of all time, and also known by his name Muhammad Ali has and will inspire many of us by his way of life and his career. Debuting in 1960 and winning 90 straight boxing matches by the end of 1963. Two of many awards he had won are Olympic Gold medal at the 1960s games in Rome and Golden Glove. Ali had a way with words, and like any other fighter, he was phenomenal at insults.
A boy from Kentucky had his bicycle stolen. Seeing him angry, a police officer suggested that in order to beat the thief, he better learn how to fight. Actually, how to box. Hence, this boy took this advice to heart.
In 1964 he faced off against Sonny Liston, the heavyweight champion. Nation witness the launching of a human satellite. Ali took the title of heavyweight champion. But, his fights were not only in the ring. In 1966 he refused to be drafted into the Vietnam war. Particularly due to America's treatment of African Americans at home. In retaliation, he was denied his boxing license and could not compete. Ali continued to inspire others and fight for civil rights, even after his license was reinstated 4 years later. In 1974 rumble in the jungle, he regained his heavyweight title from George Forman proving that he was indeed still the greatest.
After withdrawing from the ring, he devoted his life to philanthropy and charities. Especially those connected with Parkinson's disease from which he suffered.
Many athletes go through a pretty tough process of coping with perfectionism. Therefore, coping with their fear of failure. This usually prevents them from attaining their full potential. For them, anything less than perfection, which is winning, counts as a failure. This mindset results in being too careful. Muhammad Ali was an exquisite example of taking calculated risks and has remained an inspiration for many generations. That is why we have him as #1 on this motivational athletes list.
2. Michael Jordan
"I can accept failure, everyone fails at something. But I can't accept not trying." – Michael Jordan
It all started when the boy whose ultimate passion was to play basketball got rejected by the school team due to his short height. The rejection sparked a fire inside him. So he started training insane. Making himself better every second of the day, and eventually made it to the international team. However, things were not that easy. At the peak of his career, he retired from basketball, but, 17 months later he came back stronger than ever. Became the richest athlete of all time. According to Forbes, he is the most widely recognized athlete in the world, and in 2014 he became a billionaire.
3. Usain Bolt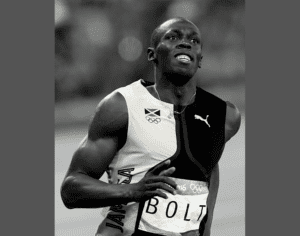 "Dreams are free. Goals have a cost. While you can daydream for free, goals do not come without a price. Time, effort, sacrifice, and sweat. How will you pay for your goals?" – Usain Bolt
The fastest human in the world, as known as Lightning Bolt due to his incredible speed. Jamaican Track & Field player. His reputation has helped him become an international celebrity. He has 20 Olympic Gold Medals and is admired as an athlete who achieved the impossible. Impossibly tall and lean. Bolt says that everybody thinks that winning is easy for him, but he but it denies it. He says it takes a lot of work and dedication and adds that what we see on track is because he worked so hard to get there.
"There are better starters than me, but I'm a strong finisher." – Usain Bolt
Legendary athletes are not there just to be admired and honored. We can learn something from them, and if you think, they indirectly teach us all a lot, just by being an example of their own. That being said, what can we learn from them? How can their example be useful to us?
Have High Expectations
Ignite The Fire
Keep Working Hard
Be Different
Get Ready To Fail
Be Who You Were Born To Be
Have a Vision
Stop Making Excuses
Practice
"Most people fail in life not because they aim too high and miss, but because they aim too low and hit." That being said, let us learn something from these inspirational and motivational not athletes, but primarily humans.