The Best Athletic Training Programs In The United States
If you're looking for colleges that offer good Athletic Training Programs across the country, you've come to the right place! The first step to kicking off your career as a well-paid athletic Trainer is getting a degree. After your studies, you can go on to get certified and become a licensed trainer. Athletic training is unique in the sense that it is one college degree that allows you to get a lot of hands-on experience. The reason is that there is almost always not enough athletic trainers at most schools. There are always athletes in need of treatment, and that gives students a chance to catch up.
Athletic Training Programs – Your Career As A Sports Trainer
According to the National Athletic Trainers' Association (NATA), to become certified, you must hold a Bachelor's or Master's degree in an approved course. Alternatively, you can complete an approved sports training program at one of the accredited colleges across the country.
Also, for you to be eligible to sit for the exam, you need to have graduated from a Commission on Accreditation of Athletic Training Education (CAATE) approved institution. There are about 360 CAATE schools around the country.
After you pass the BOC exam, you earn a certification that allows you to practice as a certified sports trainer.
Athletic Training Programs – What You'll Learn
The full coursework for a training program covers all the critical aspects of sports training including:
Sports nutrition
Healthcare management
Injury prevention
Examining, evaluating, and finding out the causes of injuries and illnesses
Physical therapy (Non-surgical treatment)
First Aid and Accident treatment
After Athletic Training programs have been completed, individuals can then take a professional exam set by the Board of Certification (BOC). If you pass the exam, you can work as a Certified Sports Trainer.
A BOC certification is the only recognized certification program for trainers in the U.S.
Many good colleges offer these programs in the U.S. We've made extensive research of the Top 10 colleges for you to kick off your career as a Sports trainer!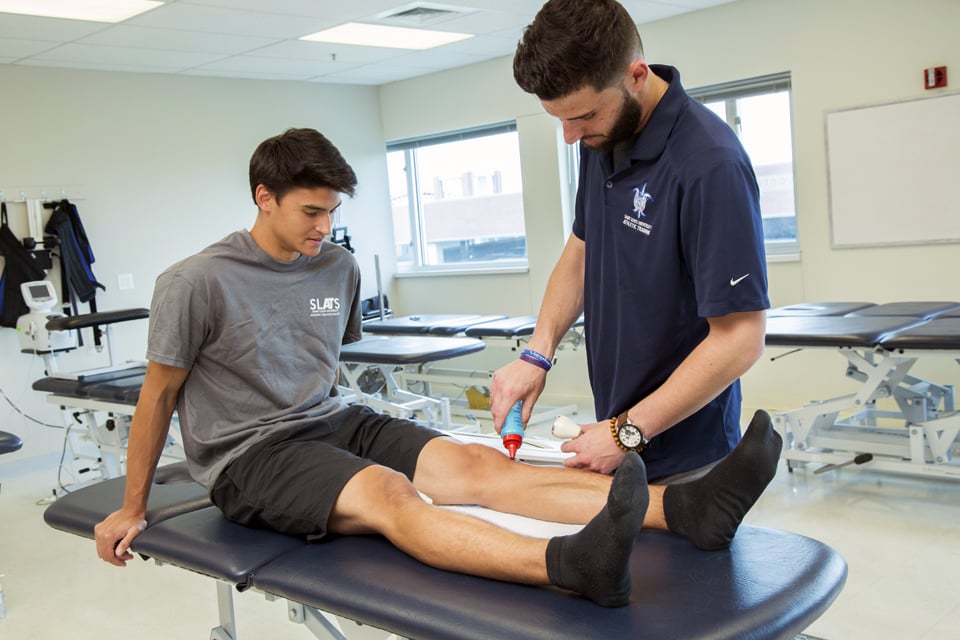 Athletic Training Programs – Top Colleges In The U.S.
#1 – University of Miami
The University of Miami offers a single training/trainer degree program in sports. At the University of Miami in Miami, Florida, students in the Department of Kinesiology and Sports Sciences will not only learn the medical aspects of the business, but they will also learn the ethical reasoning and interpersonal skills that will make them an asset to any medical practice.
#2 – Ashland University
Located in Ashland, Ohio, Ashland University is a recognized sports training school. This college offers a Bachelor of Science in athletic training. They also offer a graduate program for those who want to further their education to Master's level.
#3 – Alfred University
Located in New York, the university offers one sports training program and a minor in exercise science. Scholars can also take part in local sports competitions by playing for any of the school's 21 varsity teams. After finishing your training program, you will be eligible to sit for the National Athletic Trainers' Association BOC exam.
#4 – Anderson University
Located in Anderson, Indiana, Anderson Uni. was the first private college in Indiana to become accredited by CAATE. Students get access to remedial and rehabilitation equipment at the university's Sports Medicine Center.
#5 – University of Texas
The University of Texas offers a B.S. in athletic training under the Department of Kinesiology and Health Education.
#6 – Ithaca College
Ithaca offers an athletic training program through the Department of Exercise and Sports Science. As an underclassman, you apply for admission directly into the actual athletic training program.
#7 – The University of Michigan at Ann Arbor
The University of Michigan at Ann Arbor is an accredited CAATE institution offering an Athletic Training Educational Program to earn a B.S. in kinesiology, physiology, anatomy, pharmacology, and nutrition.
#8 – University of Florida
The University of Florida offers an athletic training program through the College of Health and Human Performance. Scholars must take multiple hours of administered training and pass various tests for first aid and emergency treatment.
#9 – University of Illinois, Urbana-Champaign Campus
At the University of Illinois, students experience rigorous exercises to learn how to prevent injuries and treat athletes. After they have completed the program, they will sit for a professional certification exam.
#10 – Boston University
Boston University in Massachusetts awards degrees to students to become professionals in athletics, education, and sports clinics across the country.
#11 – DePauw University
DePauw Uni. in Indiana offers a B.S in Sports medicine or Sports and Exercise Science via the Kinesiology department.
#12 – Brigham Young University
 Brigham Young University in Provo, Utah offers an Athletic training program to prepare students for their careers in sports healthcare administration.
#13 – George Washington University
George Washington University in Washington, DC offers three separate degrees in the field of Sports health – Athletic Training, Exercise Science, and Public Health.
#14 – University of North Carolina
A renowned University of North Carolina system, The University of North Carolina Department of Exercise and Sports Science offers B.As in Athletic training, Fitness professionalism, Exercise science, and sports administration.
9INE POINT Health Can Help You Find Sports Medicine Professionals for Mentorship
9INE POINT Health helps to connect injured athletes with top healthcare providers in their locality.
Gain instant access to a slew of top Sports Healthcare Experts. If you would like to connect with other sports medicine providers like chiropractors, physical therapists, and naturopathic doctors, 9INE POINT Health is a great place to start. You save time and money when you speak with the right professionals. You can also use it as a networking tool to learn from those that work at the best athletic training programs.
What If You Can't Get an Injury to Go Away
Sometimes you can ice all you want, but a muscle is in pain because another area is not working or because it is protecting you. With the hips, for example, your back may be hurting because your psoas is doing too much work and it is also tight. The psoas may be doing too much work because your other hip flexors are not activating correctly. The chain reaction could keep going.
Sometimes you need the help of a sports medicine provider. Sports medicine providers are used to working with athletes that need to get results quickly, to get back on the field. If you are not an athlete, I am sure that you still want quick results.
There are many different options you can go with when looking for a provider. You could get a chiropractor, massage therapist, physical therapist or many other options. The key is finding someone you trust and that you are excited to work with. Knowing they came from the best athletic training program does not matter so much.
How to Find The Best Healthcare Providers
9INE POINT Health is the best place to find the health care providers you need for any injuries. It does not matter where you are hurting; a 9INE POINT Health provider will be able to get you healthy again. 9INE POINT allows you to find the best local providers and compare them quickly using the 9INE POINT Number.
If you have no idea what you need, but you know you need something, 9INE POINT Health is an injury guide, and you will get helped through the process. We make it easier for you to find the information and the person you are looking for. We do not compare the best athletic training programs yet.
Skills to Look for in People From The Best Athletic Training Programs:
Active Release Technique
Graston Technique
Acupuncture
Massage
Fascial Stretch Therapy
Corrective exercises
Dry Needling
Sports Background
Functional Movement Screen
And more
KHO Health was acquired by was acquire by 9INE POINT in the summer of 2019 and is now referred to as 9INE POINT Health.