From Athletes to Athletepreneurs: Male Athletes that became successful in business as entrepreneurs
In today's era, athletes hang up their jerseys sooner than before but are far from retired. With multi-million dollar contracts earned yearly by professional athletes, there is more capital than ever for athletes to invest and remain financially stable once they hang up their cleats. Forget the gym; the boardroom is becoming crucial for athletes.
Most inspirational athletes are becoming known for their savvy business deals and entrepreneurship, earning more money off the field than on it. Kobe Bryant's 2013 $6 million investment in Body Armor turned in an estimated $400 million for the Bryant estate after the company was bought by Coca-Cola. First, see why these athletes indeed "score" in the business world, from personalized apparel to multimillion-dollar investment firms. Then, let's discover who these male athletes to athletepreneurs are making money outside of sports and know their inspiring athlete stories.
Tony Hawk

Tony Hawk rose to skateboard fame as a member of the Bones Brigade, then landed a role in "Police Academy 4" before launching Birdhouse skateboards in 1992. Hawk earned more than $100,000 per year as a teenager and  regarded as the world's highest-paid action sports athlete. Hawk's legacy now includes a successful video game, multiple X Games victories, and a 900 here and there.
Roger Staubach

Roger Staubach, the Pro Football Hall of Fame Dallas Cowboys quarterback (1969–1979), has amassed a veritable real estate empire. According to Forbes, by 2008, his real estate firm had 50 North American offices and 1,100 employees. In addition, Staubach Co. was sold to real estate firm Jones Lang Lasalle for a multi-year payment totaling $640 million to expand the firm globally. But the athletepreneur is not done with real estate; in 2019, he partnered with the Cowboys to build a luxury apartment high-rise near The Star, the team's world headquarters and practice facility in Frisco, Texas.
LeBron James

SpringHill Entertainment, Uninterrupted, Ladder, Blaze Pizza
According to Forbes, four-time MVP LeBron James is not only the most-endorsed NBA player in 2020 and a model for an athlete to athletepreneur, but he also makes a lot of money through his businesses. SpringHill Entertainment is a production company, Uninterrupted is a media company, and Ladder is a health and wellness company. He is also a co-owner of 19 Blaze Pizza franchises in Chicago, IL and South Florida and a shareholder in the pizza company.
Kevin Durant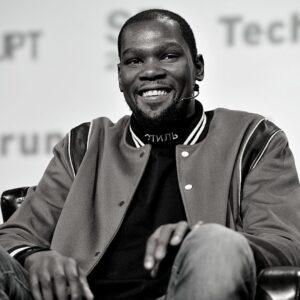 Also on the list of athletes to athletepreneur for people who love basketball, Kevin Durant is a twelve-time NBA All-Star, the co-founder and president of Thirty-Five Ventures. Durant's brand and marketing portfolio, an investment portfolio, the Kevin Durant Charity Foundation, and a multichannel sports business network, The Boardroom, distributed in partnership with ESPN, are part of the umbrella company.
Stephen Curry

Stephen Curry, who belongs to the list of athletepreneurs in the NBA, the two-time NBA MVP, founded SC30 in 2017 to manage his investments, brand partnerships, and philanthropic endeavors. According to Forbes, he also has a production company, Unanimous Media, which has a development deal with Sony Pictures.
Curry also recently agreed to receive an equity stake in Oxigen, a water-based beverage that is said to aid in muscle recovery. Curry intends to assist in beverage marketing, and his equity stake means he will share in the profits if the company succeeds.
Dwayne' The Rock' Johnson

The XFL, Teremana Tequila
Dwayne Johnson hasn't been a WWE athlete in a long time., but the former international professional wrestling superstar has become a massive success outside the ring. Not only has he transformed into one of the world's most bankable movie stars, but he has also made some significant business moves. He is a male athletepreneur to watch as the XFL gets underway for a new season.
The former University of Miami football star made a headlines when he partnered with RedBird Capital to purchase the XFL for $15 million. On the other hand, Johnson has been at it for years, having founded Teremana Tequila and securing a partnership with Under Armour for the apparel line, Project Rock.
Tom Brady

Tom Brady, a seven-time Super Bowl champion, has a diverse health and wellness brand called TB12. The brand includes athletic apparel, protein bars, snacks, supplements, electrolytes, workout equipment, and recovery tools. In addition, Brady founded 199 Productions to create documentaries, feature films, and television shows. Once Tom hangs up the jersey for good, what do you think this NFL athletepreneur will focus on next?
Paul Rabil

Rabil Companies, Rabil Ventures
Paul Rabil found entrepreneurial success outside of sports and co-founded the Premier Lacrosse League, which Fast Company named one of the 2020 Top 10 Most Innovative Companies in Sports. He also has a stake in the venture capital firm Rabil Ventures. The "Suiting Up" podcast, the Paul Rabil Experience, the Rabil Tour, Project 9 Events, and the Rabil Collection are part of the Rabil Companies portfolio.
From Athlete to Athletepreneur
These athletes to athletepreneurs are role models in the sports world and the business world. They are not only some of the best and most successful male athletes in their sports but also business and investors. What will you invest in on your journey from an athlete to an athletepreneur? 
Stay tune to see which female athletes are killing it on their Athlete to Athletepreneur journey.