There are a lot of different foot pain relief products and ways that you can work with. When it comes to a ball of foot pain relief the key is finding the things that work for you and staying consistent with their use. As an athlete, it is hard when your feet start to hurt because all of the force you produce goes through your feet. If the feet are not healthy, it will not be long before the ankles, knees, or and hips are not either. The problem is that there are a lot of foot pain relief products that do not live up to the hype.
Foot Pain Relief Products For Ball of Foot Pain Relief
Tennis Ball – Foot Pain Relief Products
Tennis Balls are often used to help with the ball of foot pain. Since it is one of the most common foot pain relief products, it is an import that you know why. People love to use tennis balls not because they are effective but because they are the easiest to buy. Many homes already have a tennis ball laying around, so it is just the logical foot pain relief product. Please do not confuse popularity with effectiveness.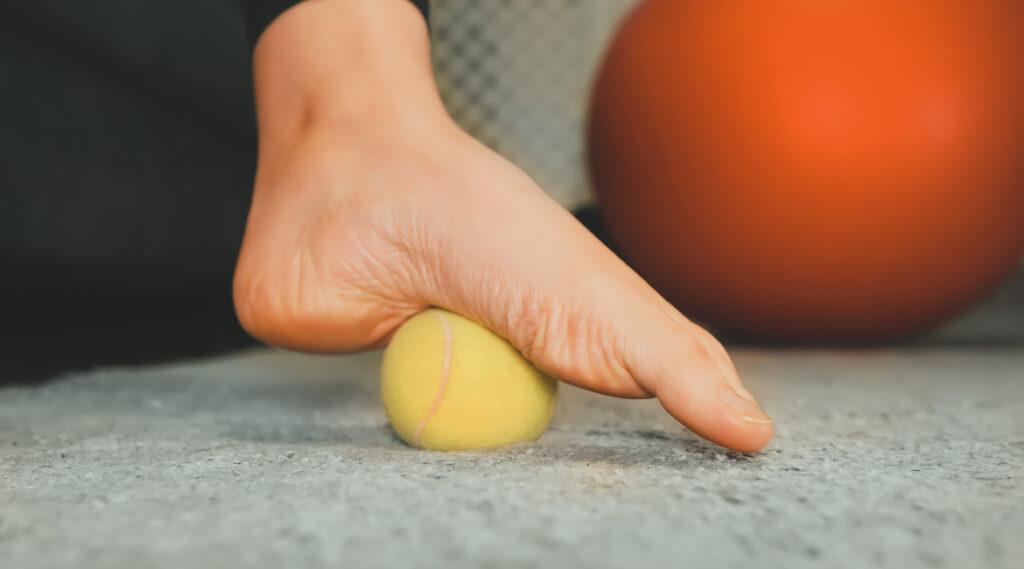 Pros
Easy to buy
Cheap to buy
Great size for the ball of foot pain relief
Using a tennis ball is better than doing nothing
Cons
Too soft to be effective
No multi-use purpose for other injuries or body parts
More popular than it deserves to be
Golf Ball – Foot Pain Relief Products
The golf ball is another option also used like the tennis ball. A lot of people golf, so it is pretty easy to find a golf ball laying around the house or at school. Since golf balls are a bit small, it is much easier to carry this tool with you everywhere you go.
Pros
The firmness of ball is great
Easiest to travel with
Cost-effective
Cons
Slippery under feet
Easy to lose track of
Ball size is too small for the most effective ball of foot pain relief
TP therapy is the heavy hitter in the self-therapy tool game. They have the most extensive variety of products, and they produce balls that come in different sizes so you can get exactly what you are looking for.
Pros
Balls come in different sizes
Balls come in different firmness
the material will grip to feet and not slide out as easily
Cons
Can still be challenging to use for someone not used to rolling foot on a ball
The Oh Ball – Foot Pain Relief Products
The Oh Ball seems to be a weird product at first glance. A ball with strings attached to it does not seem to make much sense at first. But when you take this ball out if its beautiful packaging and put it to use, you will not be disappointed.
Pros
Size of a tennis ball
The firmness of a golf ball
Portable
Strings help to hold the ball in place for a targeted ball of foot pain relief
Efficiently the best foot pain relief products that come in ball form
Cons
Product seems weird at first glance until you use it
On the pricey side of foot products
Manual Therapy for Ball of Foot Pain Relief  from Healthcare Provider
Many of these products are great for self-maintenance, but one of the best things you can do for your long-term health is found an excellent healthcare provider. The mistake a lot of people make with injuries is they see one persona and figure that because the person did not make them feel better that no one can. This cannot be further from the truth.
All healthcare providers are not made equal. The best healthcare providers come from many different professions. They have different skill sets, backgrounds and strengths and 9INE POINT Health has one goal, and that is to get you in touch with the right person for you. It does not matter how much you know about health care; we can help you.
A great healthcare provider is going to be able to evaluate everything going on with your body. Find the weak points and help create a game plan for the long-term ball of foot pain relief. Then when you use the products above, they are a supplement to the treatment you are getting.
What If You Can't Get Ball of Foot Pain Relief On Your Own
Sometimes you can ice all you want, but a muscle is in pain because another area is not working or because it is protecting you. With the hips, for example, your back may be hurting because your psoas is doing too much work and it is also tight. The psoas may be doing too much work because your other hip flexors are not activating correctly. The chain reaction could keep going.
Sometimes you need the help of a sports medicine provider. Sports medicine providers are used to working with athletes that need to get results quickly, to get back on the field. If you are not an athlete, I am sure that you still want quick results.
There are many different options you can go with when looking for a provider. You could get a chiropractor, massage therapist, physical therapist or many other options. The key is finding someone you trust and that you are excited to work with.
How to Find The Best Healthcare Providers When Foot Pain Relief Products Do Not Work
9INE POINT Health is the best place to find the health care providers you need for any injuries. It does not matter where you are hurting; a 9INE POINT Health provider will be able to get you healthy again. 9INE POINT allows you to find the best local providers and compare them quickly using the9INE POINT Number.
If you have no idea what you need, but you know you need something, 9INE POINT Health is an injury guide, and you will get helped through the process. We make it easier for you to find the information and the person you are looking for.
Skills to Look for in a Healthcare Provider for Ball of Foot Pain Relief:
Active Release Technique
Graston Technique
Acupuncture
Massage
Fascial Stretch Therapy
Corrective exercises
Dry Needling
Sports Background
Functional Movement Screen
And more
KHO Health was acquired by was acquire by 9INE POINT in the summer of 2019 and is now referred to as 9INE POINT Health.